The ocean is a vast playground for many marine athletes. Today we revisit some of the most impressive water records.
The 'Around the World' sailing record (Jules Verne Trophy) by the French Loïck Peyron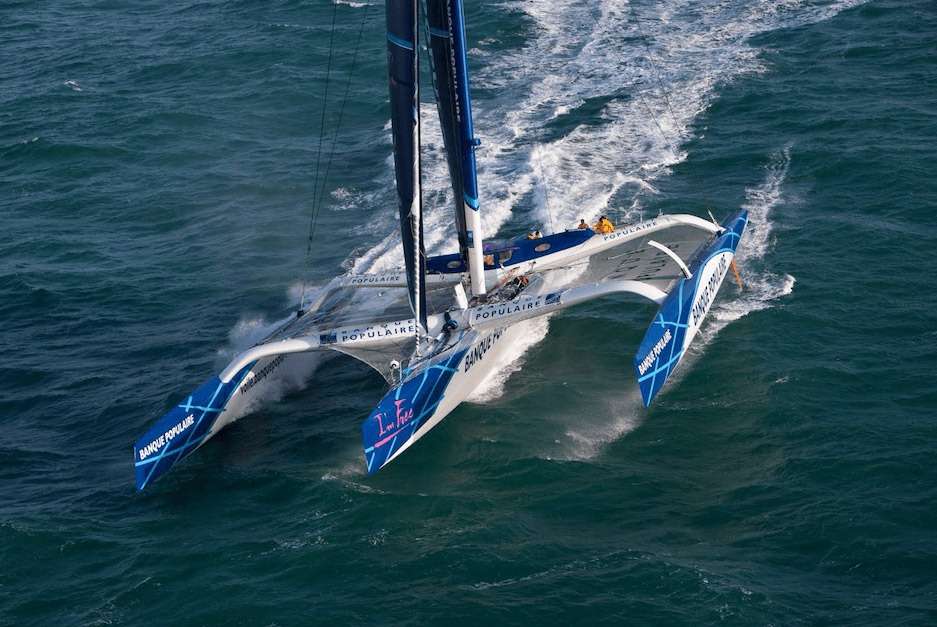 45 days, 13h, 42min and 53 seconds: This is the time it took to Loïck Peyron and his crew to go around the world aboard the maxi trimaran Banque Populaire V. Its crew was composed of Juan Vila, Jean-Baptiste Le Vaillant, Kévin Escoffier, Xavier Revil, Florent Chastel, Fred Le Peutrec, Emmanuel Le Borgne, Thierry Duprey du Vorsent, Ronan Lucas, Yvan Ravussin, Brian Thompson, Pierre-Yves Moreau and Thierry Chabagny. This record was established on January 6th, 2012 and remains undefeated to this day.
The 'Apnea No Limits' dive record is 214 meters!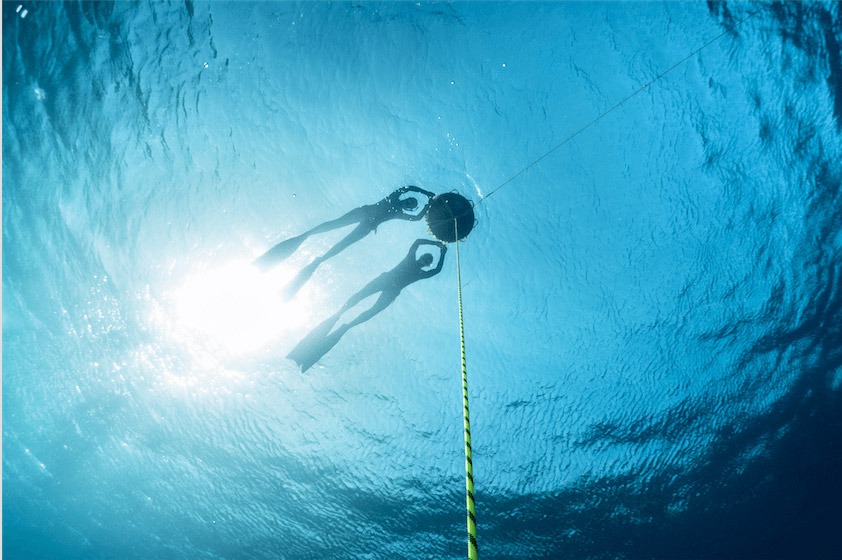 Herbert Nitsch, an Austrian and holder of thirty-two world records, has beat his 'Apnea No Limits' dive record two times in a row. He currently holds a record of 214 meters obtained in Greece in 2007.
The distance recorded by a 24 hour Sailing Trimaran Crew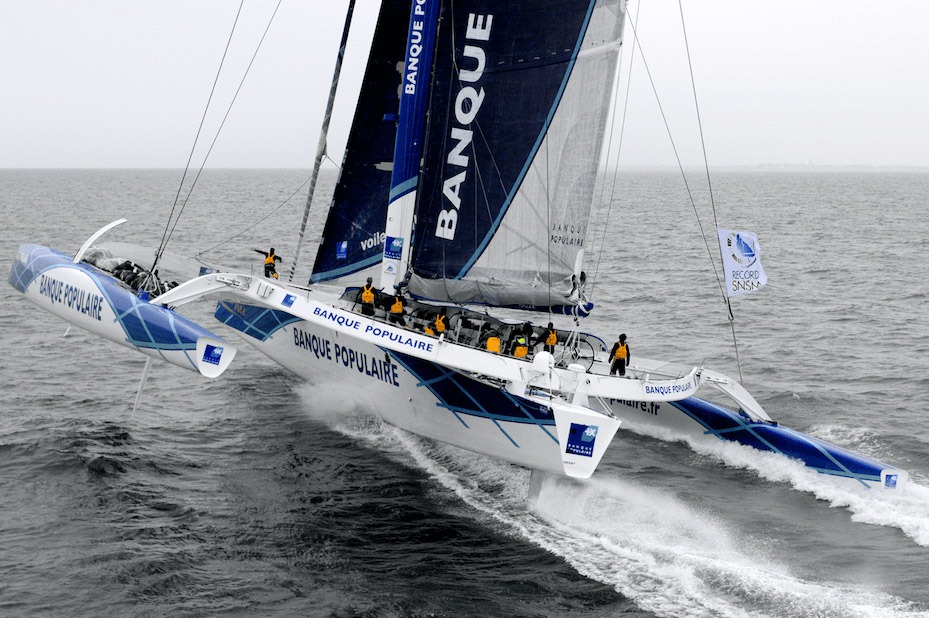 Approved August 1rst 2009, by the World Sailing Speed Record Council, The sailing distance record was established by Pascal Bidégorry and his crew aboard Banque Populaire V on August 1st, 2009, and approved by the World Sailing Speed Record Council.They traveled 908 miles (1461.28 km) in 24 hours!
The World Speed Record in Windsurfing
This record is held by French native, Antoine Albeau, who reached,a speed of 53.27 knots, or 98.65 km/h, on November 2nd 2015. This is just yet another record to add to the vast career of Antoine Albeau who has won 12 French Championships, 4 European Championships and 23 World Championships! Here are the details of this incredible record:
The Biggest Trimaran in the World today is French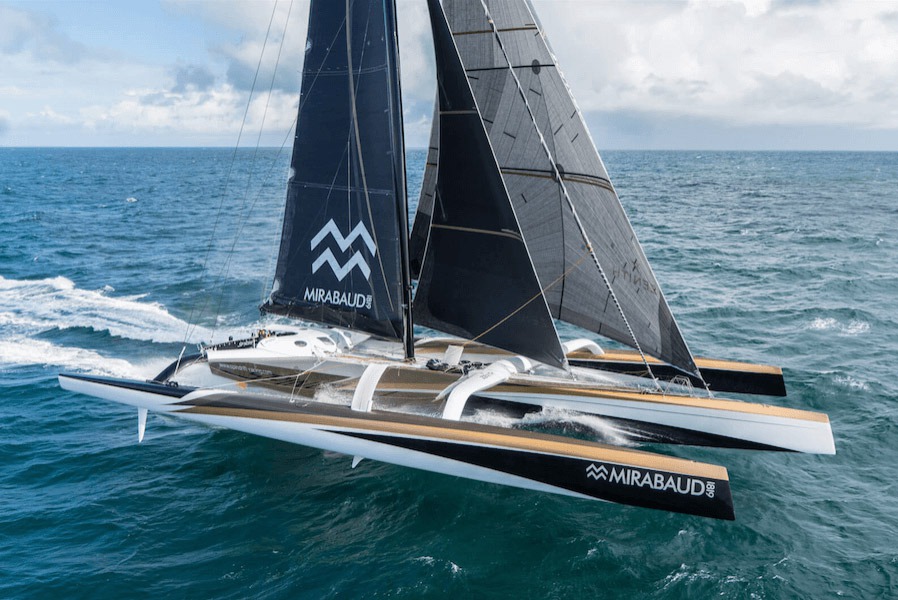 With a high mast of 42 meters, a large sail of 405m2 and a length of 40 meters (central hull), the Spindrift 2 is the biggest trimaran in the world. Launched for the first time in August 2008 under the name of Banque Populaire V, it was renamed Spindrift 2 in 2013. With Yann Guichard as skipper, the Spindrift 2 finished second in the Route du Rhum 2015. This sumptuous trimaran will indeed be present at The Bridge 2017, and it will challenge the Queen Mary 2 in June. On this occasion, the crew will try to set the record for crossing the Atlantic in the east-west direction between Saint-Nazaire and New York.
The 500m Speed Sailing Record
This record is held by a unique machine: Vestas SailRocket 2. Specially designed for this kind of performance, this rather interesting yacht is capable of reaching 68.01 knots top speed, or 125.9 km/h. The average speed for the 500 meters race was 65.45 knots, or 121.06 km/h. This record was set by the Vestas SailRocket 2 while manned by Australian Paul Larsen.
Check out his record onboard camera:
The Distance Record for 24 solo hours on a Trimaran
On Wednesday, June 8th 2016, Thomas Coville beat the distance record for 24 solo hours. Indeed, he has crossed 714 miles, or 1149 km, at an average speed of 29.93 knots, or 55.4 km/h between New York and La Trinité-sur-Mer.
Last July 3rd, François Gabart beat this record by traveling 754 miles, or 1216 km at an average speed of 31.4 knots, or 58.2 km/h but this performance is still being formalized.