The skipper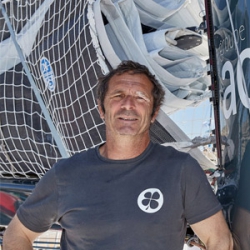 Yves le Blévec (FRA), 51 ans
Né le 15 juillet 1965 à Palaiseau (Essonne)
En couple, père de quatre enfants
Vit à La Trinité-sur-Mer (Morbihan)
Starting from Saint-Nazaire, finishing in New York, it is a mythical course that takes us back to the era of passenger ships and steamers. The Ultim trimarans on THE BRIDGE! It's fantastic!
3rd in the Transatlantic Race 2016.
At 51, Yves Le Blévec is an example of perseverance and humility. Determined, curious, attentive, he is courageous, forward thinking, always learning and pushing his limits. Understated, this sailor continues his quest to conquer ocean space: from the mini transatlantic race 6.50 to the Ultim', the 50-foot multihull circuit, where he was one of the main promoters, and victory in the Transatlantic Race Jacques Vabre into the bargain. His record shows that he was also twice joint holder of the Jules Verne Trophy with the crew of Bruno Peyron. Stung by the multihull virus, Yves is now among the finest experts in the art of leading a giant with sails at full speed. A newcomer on the Ultimate trimarans circuit, the Trinité skipper has already achieved the feat of completing his first solo race at the helm of a giant in the last Transatlantic Race Anglaise (now known as the Transatlantic Race Bakerly). A performance in itself, this prestigious race across the North Atlantic cemented his entry into the big league.
Palmarès
2016 : 3è de la Transat Anglaise en trimaran Ultime
2011 et 2013: vainqueur et 2è de la Transat Jacques Vabre en Multi 50
2010 : vainqueur de la Vendée-St Pétersbourg en Multi 50
2007 : vainqueur de la Transat 6.50
2002 et 2005 : Trophée Jules Verne
L'équipage

Samantha Davies



42 ans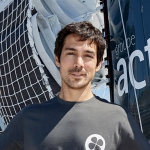 Davy Beaudart



32 ans

Stanislas Thuret



30 ans

Jean-Baptiste Le Vaillant



56 ans
The boat
Official name: ACTUAL ULTIM
Number: 53
Architects: Nigel Irens - Benoît Cabaret
Shipyard: Boat Speed (Australia)
Decoration: Jean-Baptiste Epron
Launch: 21 June 2007
Length: 31.00 m
Width: 16.55 m
Draft: 3.00 m
Air Draft: 35.00 m
Weight: 12 t
Area of sails upwind: 395 m²
Area of sails downwind: 500 m²
Contact