The skipper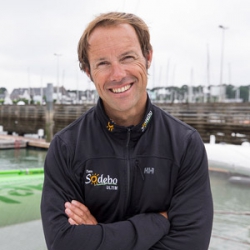 Thomas Coville (FRA), 49 ans
Né le 10 mai 1968, à Rennes (Ile-et-Vilaine)
Marié, père de deux enfants
Vit à Locmariaquer (Morbihan)
Being a pioneer is in the DNA of the Ultim collective which brings together the owners of the biggest multihulls. Today, with THE BRIDGE, we have a rendezvous with history. With this new race, with this new concept and with the Queen Mary 2...
Holder of the round the world solo record in 49 days and 3 hours.
Do we need to introduce Thomas Coville, this sailor who recently won the hearts of earthlings upon the completion of a round the world solo undertaken in the most spectacular manner in 49 days and 3 hours, beating the impervious record hitherto held by a certain Francis Joyon? A top-level sportsman, a training engineer, skipper of Sodebo since 1999, Thomas Coville is above all an enthusiast. A "multi-tourdumondiste" sailor, recognized by his peers and praised for the care he brings to the boats he skippers. From the mini transatlantic race 6.50 to the greatest of trimarans records, through to the America's Cup and the Volvo Ocean Race, Thomas is at 48 years old, one of the most eclectic skippers of his generation. The multihull remains his guiding light, his adrenaline, his universe. Across the Atlantic or around the world, against opponents or against the clock, the sailor constantly delivers and proves himself worthy, but always with the same talent for recounting and sharing his adventures that bear all the sincerity of an unfailing fighting spirit.
Palmarès
8 tours du monde dont 4 en solitaire, 6 en multicoque et 2 en monocoque
10 passages du Cap Horn et plus de 17 transatlantiques
16 records en solitaire et 4 en équipage
2010 et 2006 : podium en trimaran sur la Route du Rhum
1998 : victoire en monocoque sur la Route du Rhum
L'équipage

Jean-Luc Nélias



55 ans

Vincent Riou



45 ans

Loic Le Mignon



47 ans

Thierry Briend



44 ans

Billy Besson



36 ans
The boat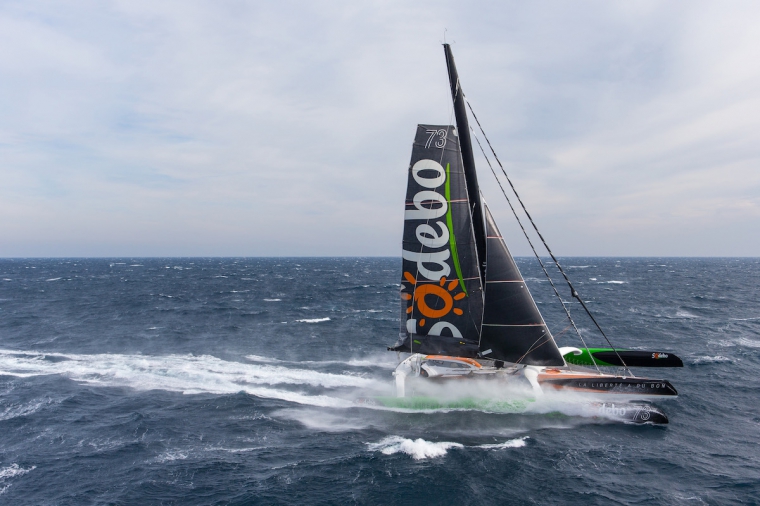 Official name: SODEBO ULTIM'
Number: 73
Architect: Cabinet Van Peteghem - Lauriot Prévost
Shipyard: Multiplast (France)
Sailboat: North Sails
Decoration: Designe.fr
Launch: May 2014
Length: 31.00 m
Width: 21.20 m
Draft: 4.50 m
Air Draft: 37.00 m
Weight: 15.6 t
Area of sails upwind: 444 m²
Contact presse
Aline Bourgeois, agence La Maison Link
+33(0)6 86 44 27 46
aline.bourgeois@linkrp.eu