The skipper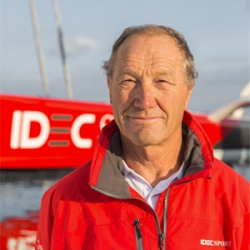 Francis Joyon (FRA), 61 ans
Né le 28 mai 1956 à Hanches (Eure-et-Loir)
Marié, père de trois enfants
Vit à Locmariaquer (Morbihan)
The trimaran IDEC SPORT, which uses the wind and the sea to move, represents the ideal link and symbolises the friendship between France and the United States. With the IDEC SPORT team, we are proud to participate in this premiere of THE BRIDGE.
Holder of the Jules Verne Trophy for the round the world record with a crew, in 40 days, 23 hours.
At 60 years, Francis Joyon is a sailor apart, a colossus of the oceanic race. Undisputed master in the art of solo sailing aboard a maxi-multihull, last winter, Francis Joyon embarked on the conquest of one of the greatest maritime challenges: the Jules Verne Trophy. We now know the result,... With his "dream team" containing a mixture of talents, this outstanding skipper wound around the planet's seas at dizzying speeds winning the admiration of all and completing the loop in 40 days. Even the famous writer who gave his name to this record of absolute speed could not have imagined such a time! With his crewmen, building on his exemplary record of solo records as well as the opening of new maritime routes, this pioneer at heart is now one of the fastest navigators of all time. And among the most formidable competitors of the Queen Mary 2.
Palmarès
2017, Un record en or en équipage : le Trophée Jules Verne.
2017 : record de la Route de l'Amitié, Bordeaux/Rio de Janeir.
2013 : record de la Route de l'Amitié, Atlantique nord (toujours valide), ainsi que de la Route de la Découverte, des 24H, et du tour du monde (battus depuis).
2010 : 2è de la Route du Rhum.
2000 : Vainqueur de la Transat Anglaise.
L'équipage

Alex Pella



44 ans

Gwénolé Gahinet



33 ans

Sébastien Picault



41 ans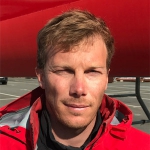 Quentin Ponroy



30 ans
The boat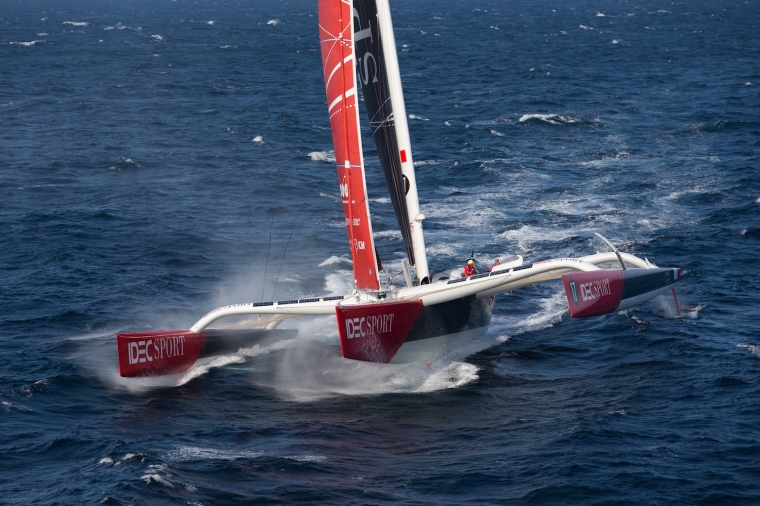 Official name: IDEC SPORT
Number: 17
Architect: Cabinet Van Peteghem - Lauriot Prévost
Shipyard: Multiplast (France)
Launch: June 2006
Length: 31.50 m
Width: 22.50 m
Draft: 5.70 m
Air draft: 33.50 m
Weight: 18 t
Area of sails upwind: 411 m²
Area of sails downwind: 678 m²
Contact presse
Fabrice Thomazeau, agence Mer & Media
+33 (0)6 86 00 06 73
fabrice.thomazeau@gmail.com